If you are looking to develop a custom Web Application for your business, look no further. Our custom programming and development team has built many web applications, helping customers in multiple industries.
A Painless Process
The thought of developing a custom web application may seem like a daunting task, but rest assured we have been around the block a few times. We will gladly brainstorm with you to develop the best possible solution.
Got Questions?
Brainstorm with one of our Project Managers today.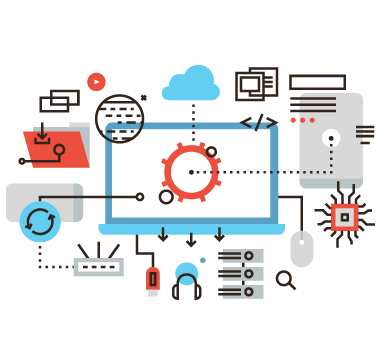 Our Web App Services include the development of:
Custom website features
Customer Portals
Cloud Apps
Software as a Service (SAAS) Solutions
MySQL / PHP Databases
Admin portals
CRMs
Business Process Automation
Third-party Integrations
And much more……..
We have built everything imaginable. From simple data integrations to massive management systems, our teams are ready to help.
How to Properly Develop a Web App
If you have never built a Web App before, you may be wondering what is involved to get one launched.
We like to use the analogy of building a home to best describe the process.
Much like the construction of a home, you first need to create a blueprint of your home before you can build it. So you hire an architect to take your idea and bring it to life on paper. Our initial planning phase does exactly that.
First, we create a concept document outlining the overall goals of the application. Essentially, we describe the concept of what the Web App is going to do.
Second, we develop a flowchart. Think of this as your blueprint. The flowchart showcases how users will experience your app. It will show where they can go and what they can do.
Finally, we create mockup designs of the entire app. Each screen will be designed and presented to you. These designs are called your user interface (UI) drawings. Think of these designs as the renderings of your dream home.
Contact Us For further information