Designing your business website is a big project. Your website will often be your first impression on your customers, so there's no doubt that it should be built to impress. When it comes to actually designing your site, however, you'll be faced with the question of whether to choose a generic template or build a custom website design.
Both custom web design and generic templates have their pros and cons. After all, there's a reason that both exist and are used by businesses everyday. Depending on what type of new website you want to build, the impression you want to make on your customers and the complex business problems you face, you'll need to choose one or the other.
Custom Web Design vs Templates
Custom Web Development: When you choose custom web design, your website will stand out. You can show off your business' unique selling points and build to your exact specifications.
Custom web development solutions allow you to build your website however you need. You have unlimited design options available and while this does come at a higher cost, it's a benefit that many businesses are unwilling to part with.
Overall, custom designs tend to be more customer focused and offer flexibility that you won't find with templates. Your custom website is built with powerful scalability and personalized branding – two things that are often harder to find in templates.
Templates: Using a generic template is much simpler than designing your own custom website. With some website building tools, you don't need any coding experience to create your site and most of the time, you'll be able to edit and manage your new website without the help of a professional.
When you use a template, however, you are more limited in your abilities and personalization. Since you're using a template, other businesses may have a website that looks similar to yours which can make branding difficult.
Additionally, you won't be able to edit everything about the template. Sometimes, you may only be able to edit theme colors, fonts, and images.
While templates are easy to use and often cheaper, they aren't always the best option. If your business needs a main platform to communicate and attract customers, going with a custom web design is often in your best interest.
What You Can Expect With Your New Custom Website
Custom web design comes with a myriad of benefits, but if you're new to it, you might be wondering what to expect.
SEO Friendly
SEO plays a huge role in search results which means it's vital that your website conforms to current standards. With a custom web design, you can expect your website to be built according to modern SEO standards so your business has the competitive edge it deserves.
Your SEO-friendly website will be able to generate new leads, improve your ranking in search results, and increase website traffic.
Responsive Design
Custom web designs are built to automatically adjust to the device customers use to access your website. By ensuring your website is always ready to be accessed on tablets, laptops, and mobile devices, you can be confident that your users are getting the best experience and user interface possible.
Responsive and mobile-friendly websites receive higher rankings in search results as well and with more users turning to their mobile devices, this is a feature that should not be overlooked.
Third Party Integrations
If you need to integrate any kind of third party tool into your website for tracking or sales processes, it can be very difficult or sometimes impossible to do that with a site that isn't custom built. For example, if you need to add a booking engine or you want to connect your site to your Salesforce system, you'll need to have a site that gives you the flexibility to do that. All your business processes can be streamlined and accessed easier with one central and smart system.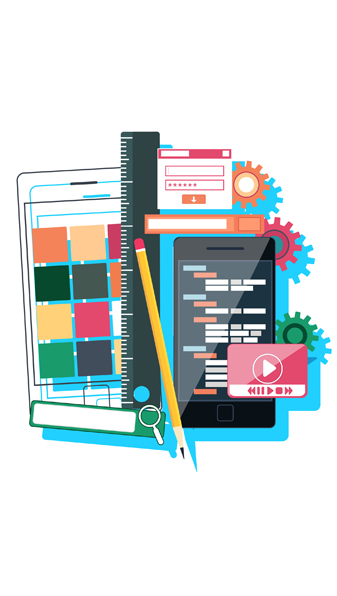 Our Custom Web Development Process

Our custom web design process is simple and easy to follow. From start to finish, our experts are available to answer any questions and help you at any point. To give you a clearer idea about what to expect while we develop your custom website, here's an outline of our web design process:
1. Initial Consultation
During the initial consultation, we'll go over your business goals and needs so that we can better understand how your website should be built. We'll take careful notes and ensure that we fully understand your expectations. Additionally, we'll answer any questions you have, give you a full explanation of what to expect, and provide you with a price quote.
2. Blueprinting
Our next step is to plan and strategize the initial design of your website, combining functionality with our creative ideas. We'll create a rough draft of our website design and present it to you to approve and critique. We'll take into account any changes you want made and provide you with complete mock-ups so you have a visual representation of your proposed website.
3. Development
Once you've approved the design, our team starts developing your website. We'll bring your website to life and put it through rigorous testing to ensure it runs smoothly and functions as expected. We finalize both front-end and back-end development and once we're confident your website is fully developed to our high standards, we'll present it to you for final approval.
4. Launch
When you're happy with your website and it's passed all our tests, it's time to launch it! We'll happily show you how to manage and run your website and stick around in case you need any assistance.
5. Maintenance
Even after your website is launched, the work isn't done. Our team will perform routine maintenance on your website to ensure it continues to run smoothly and doesn't encounter any security problems. We'll continue to run it through tests and make updates so it is always up to date with SEO standards and ready to attract more customers.
Why Choose Ecodelogic As Your Web Development Company
As a full service custom web development company, we have all the necessary experience and training to ensure your business is equipped with a robust and aesthetically pleasing website. We have the capability to handle any integration, develop APIs, build an app with your site, build a custom portal for your customers or for business management purposes, etc. We can handle just about anything.
Our website developers are experts in their fields and know all the best methods for designing a custom website that conforms to SEO standards without sacrificing your business's needs. And if you need further SEO assistance, our sister company, Get The Clicks, can help with your marketing needs too.
We design websites that reflect your brand first and foremost. With an emphasis on functionality and branding, your business will be well represented by a 100% unique website that will attract new customers and turn leads into converts.
Our web design company is here for you and we listen to your input and take great care to ensure your wishes and critiques are taken into account. If you don't like a certain design or you need something specific, we're here to make it happen. You'll get your own dedicated project manager to take you through the entire process and make any communication easy and seamless.
Your budget is important to us and we'll never pressure you to go over it. As an honest custom website design company, our website developers will make sure that the custom solutions we propose are within your set budget and affordable. We won't try to hide additional fees or trick you into paying for something that isn't necessary. With your custom design, you'll get exactly what you need at an affordable price.
Our web developers are great at what they do and have worked across multiple industries. No matter what industry your business is in, we have the knowledge and skills to bring your website to life.